When offered the chance to try Living Green Supremefood, I said YES. I don't know about you, but it's not possible for me to fit the 6+ servings of vegetables a day that I am supposed to consume. And let's face it – most "greens" drinks are just plain awful.
One serving of Living Green Supremefood provides the nutrition of five servings of fruits and vegetables. And because it's not just "greens," the taste is palatable. It does not taste like a fruit juice, but it is one of the best greens drinks I've ever tasted.
Living Green Supremefood (LGS) is not just vegetables. LGS contains organic grasses, fruits, probiotics, algae, spirulina, chlorella, herbs, fibers, and a range of vitamins and minerals such as copper, potassium, calcium, iron, and zinc.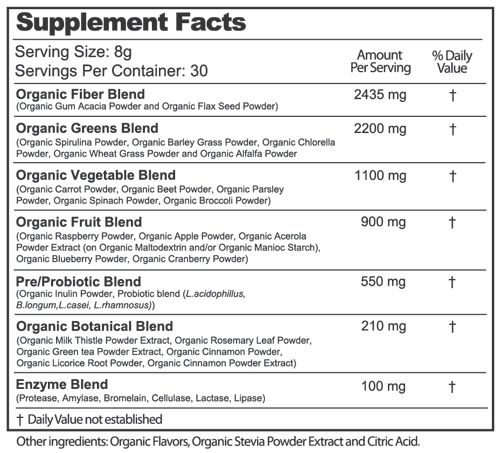 Living Green Supremefood is cold processed to protect heat-sensitive enzymes and phyto-nutrients. Unfortunately, many green powders on the market are processed with heat, destroying many of the nutrients you are consuming.
That's right – Living Green Supremefood contains 100% Organic ingredients, with NO dairy, NO gluten, and NO soy. It is also non-GMO.
Consuming Living Green Supremefood daily will help provide your body with nutrition, strengthening your immune system, and increasing mental focus and energy levels.
Summer is a great time to turn to using greens in smoothies and other cold on-the-go drinks. LGS hides nicely in a fruit smoothie. I personally just add water and drink it that way. The nice thing about Living Green Supremefood is it's versatile.
Check out this YouTube video…
Buy some!
Purchase a canister of Living Green Supremefood, which is a month supply, from Dr. Colbert's Divine Health website. You can also find on-the-go packs of Living Green Supremefood, and other supplements and books.
Win some!
Use the Rafflecopter below to enter to win a canister for yourself!
Similar Posts:
Lea Harris founded Nourishing Treasures in 2006. A mom passionate about her family's health and well-being, Lea believes education is power. Encouraging others to take baby steps in the right direction of health for their families, Lea's goal is to raise awareness of what goes into our mouths and on our bodies, providing natural alternative information that promotes health and prevents disease by using traditional foods and nature's medicine.

Lea is a Certified Health Coach graduate from Beyond Organic University, and a Certified Aromatherapist graduate from Aromahead Institute.

"Like" Nourishing Treasures on Facebook, join the Nourishing Treasures Group on Facebook, follow @NourishTreasure on Twitter, and subscribe to our newsletter.

You can also find me on Learning About Essential Oils forum, and Fido Fermentation Facebook group.

Disclaimer: I use affiliate links wherever possible. So if you click on a link, and make a purchase, I might make a small commission, but it doesn't cost you any more.
Comment with Facebook
comments